Donate to FAYCO
Our Motto: "Helping Others Help Themselves."
Skip to Content
Your browser must have Java installed and cookies enabled.
Web Accessibility for the disabled has been evaluated by WebAIM.org's WAVE Tool and Color Contrast Checker.
FAYCO History
FAYCO Enterprises, Inc. is a 501(c) not-for-profit corporation which functions as a "rehabilitation center" for citizens with disabilities residing in Fayette, Bond, Montgomery and adjacent Counties in Illinois. The community-based, public service corporation was established in 1975 when concerned local citizens approached the Fayette County Board with a request for the use of the vacant county-owned building on Route 185 North of Vandalia, Illinois.
Specifically, the concerned local citizens wanted to establish an "activity center" where disabled adult individuals could gain valuable, developmental skills ultimately leading to greater independent living skills including earned income through the production and/or assembly of products under contract with area industries and businesses, etc. Upon securing the County Board's permission for the use of the vacant structure, the local organization immediately applied for and secured a small operating grant from the State of Illinois which was matched by donated local funds. From a volunteer work force, a Board of Directors was formed and a full-time Executive Director was first hired in 1976.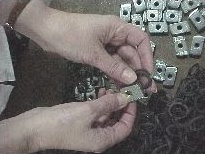 In the interim, FAYCO Enterprises, Inc. has evolved from a simple work activity center to a fully developed "rehabilitation center" for adults with disabilities. At present, FAYCO Enterprises, Inc.'s primary sources for operating revenues consist of contracts with the Illinois Department of Human Services and many of its offices. Other sources include the Illinois Department of Healthcare and Family Services (formerly Public Aid), a "377" tax levy or local funds from Fayette, Bond and Montgomery County Boards and local donations.
FAYCO proudly works to ensure quality work opportunities for its workers. We secure work from local business and industry as well as through the Illinois State Use Program that is operated by the Illinois Department of Central Management Services. In this way, we are authorized to contract with all units of State Government. We have been priviledged to successfully execute complex contracts such as the production of guard uniforms for the Department of Corrections. Another of our jobs came as a result of a contract awarded to us by the Illinois Department of Transportation to maintain the Homestead Rest Area located on Interstate 55.